För först gången har en tillverkare satt en 2-taktsturbomotor i produktion, SUMMIT 850 E-TEC TURBO!
Foto: Ski-Doo
Håller effekten på 165 hästar oavsett höjd och vi kan anta att det är bra vrid i motorn. Man har även försökt bibehålla en bra gasrespons. I övrig använder man sig av crosshuven och en kort tunnel. Detta tillsammans med Kashima coated HPG Plus-dämpare i framvagnen.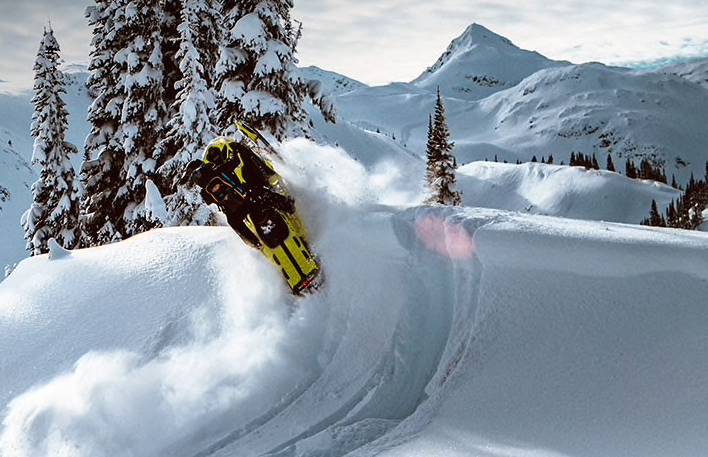 Summit 850 E-TEC Turbo delivers maximum power up to 8,000 feet and continues to deliver 40 more HP than naturally aspirated 850-class engines as the ride climbs higher in elevation.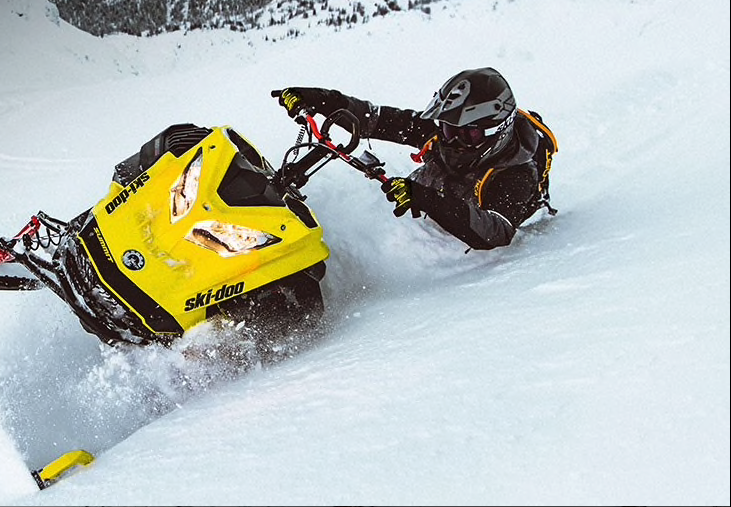 SHOCKS
HPG Plus Premium shock package takes ride compliance and capability to new levels. Kashima coated front shocks deliver smooth, consistent performance. Lightweight springs further reduce overall sled weight.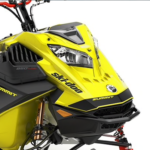 ONE-PIECE LIGHTWEIGHT HOOD
Turbocharged power with only a fraction of the weight gain thanks to optimized weight saving efforts like a one-piece lightweight hood.
REV GEN4 PLATFORM AND SHORT TUNNEL
The snowmobile industry's most responsive platform – the REV Gen4 platform is outfitted with rider-requested features like short tunnel design and wide, flat running boards with huge openings to minimize snow buildup at every point for the ultimate in deep-snow maneuverability.