Tucker Hibbert Continues Win Streak at Michigan's Ram Truck Snocross
February 24, 2014 – Monster Energy/Arctic Cat's Tucker Hibbert continued his win streak at the inaugural Ram Truck Snocross at Soaring Eagle Casino in central Michigan. Winning all his qualifying rounds and both main events in dominating fashion, the defending Pro Open Champion made it clear he enjoyed racing on Mt. Pleasant's massive track featuring big air jumps, split lane corners and technical rhythm sections.
High wind with gusts exceeding 40 mph Friday night added yet another technical element to an already challenging racetrack. Riders were forced to tactically hit jumps to compensate for the wind pushing them in the air. Hibbert's precision and patience paid off as he won both his qualifying rounds and the final event by sizable margins.
Both the riders and spectators welcomed Saturday's clear skies and mild wind. The first round of Pro Open qualifying was a thriller after Hibbert got a last place start in the seven-lap, eight-rider race. Taking advantage of the big track, Hibbert was creative with line choices and stayed ultra low on jumps to make his way to the front of the field. He went on to win his second round of qualifying giving him first start line selection for the 12-lap, 14-rider main event. Hibbert pulled the Stud Boy holeshot but No. 53 Kody Kamm found a line around him. On lap five, Kamm high sided himself on the inside of a split lane corner giving Hibbert the lead. With a clear track in front of him, Hibbert pulled away from the field to win by over 15 seconds.
Overall, Hibbert gained 28 points on second place Kamm in the Pro Open Championship title chase. After a weekend break, he'll take his 98-point lead into the final two events of the ISOC season.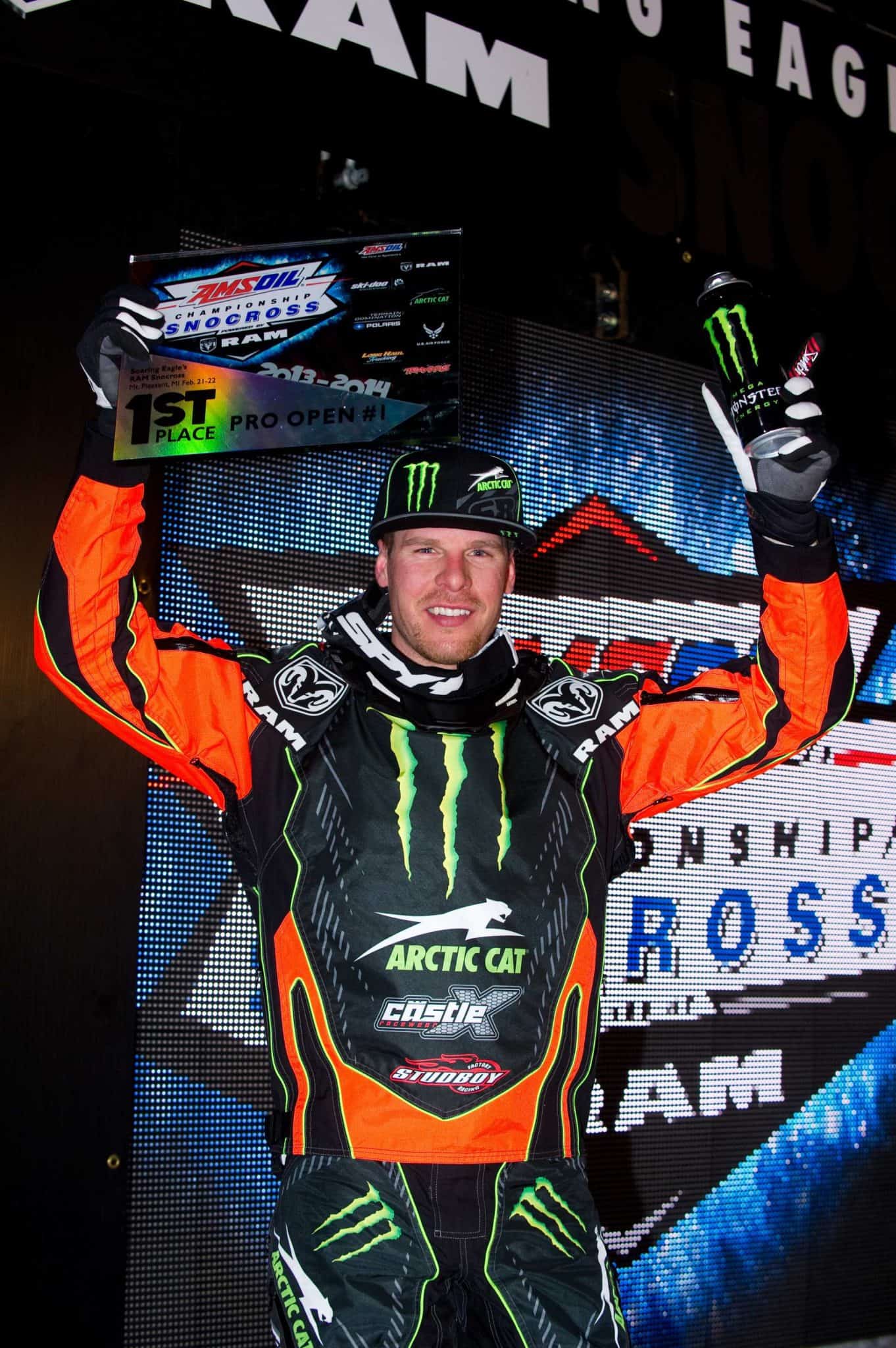 Tucker Hibbert – #68 Monster Energy/Arctic Cat
"This weekend was a lot of fun. We've had small tracks the past two races so it was nice to have a big racetrack with room to try different lines. Racing on a big track makes it less stressful. I like that I don't have to take chances and have space to set up passes.
I was put in a mix of race situations this weekend — coming from behind and leading from the beginning. One qualifying race came down to the last lap. The team worked super hard to have the success we did. It's always fun to achieve our goals.
I'm really excited about the championship. Gaining 28 points on the weekend is a huge advantage for us. I've been doing everything I can to maximize my points and I feel really comfortable going into the last two events."
Tucker Hibbert's Remaining 13/14 Snocross Events
March 7-8: Glyndon, MN
March 14-16: Lake Geneva, WI
Noteworthy: Hibbert just released his second race replica consumer snowmobile with Arctic Cat. The 2015 ZR 6000 Tucker Hibbert RR is available for pre order through Arctic Cat dealers. http://arcticcat.com/snow/sled/ZR6000RRTuckerHibbert
Resources: tucker-hibbert.com • monsterenergy.com • arcticcat.com • isocracing.com
Se resultaten på http://members.isocracing.com/NationalTour/Race-Results med svenska framgångar för både John Stenberg och Marica Renheim!
ÂÂ