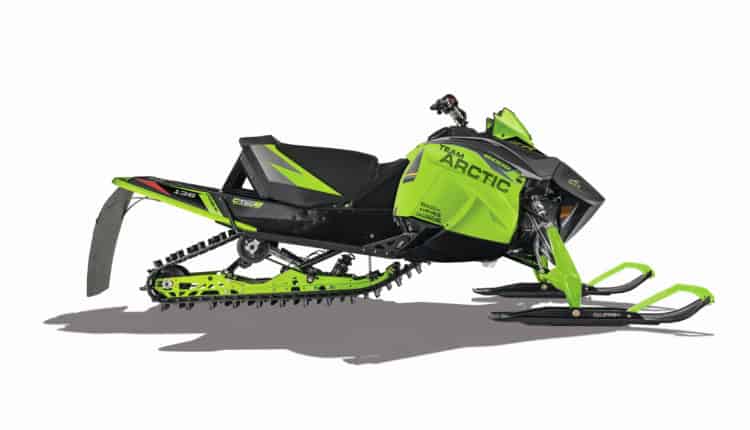 NYHETER
• Ny 600 C-TEC2 EFI-motor med dubbelstegsinjektion (DSI) innehåller ett nytt avgassystem, reedventiler och reviderad ECM-programmering för förbättrad effekt vid låga varv och bättre respons, med en ökning av hästkrafter.
• Reviderad 40: 1 C-TEC2-oljeförbrukningsförhållande och kalibrerad för National snocross krav på bränsle.
• Nya smidda aluminiumspindlar på ARS II är lättare och starkare till 2019.
• Förbättrad hållbarhet på många ställen som styrsupport, variatorskydd, ny främre kylare, ny förstärkning av railen, förstärkt frontpanel, nya övete A-armar och framdel av chassit.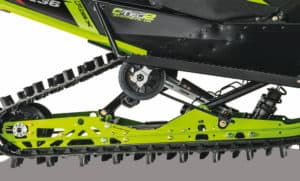 • Förbättrad kalibrering på FOX FLOAT 3 EVOL RC i framvagnen, FOX 2.0 ZERO RC bakre boggidämpare och FOX 2.0 ZERO C främre boggidämpare.
• Flyttat dödmansgrepp och hand- / tumvärmereglage för att underlätta att komma åt under huven utan att lossa kabelstammen.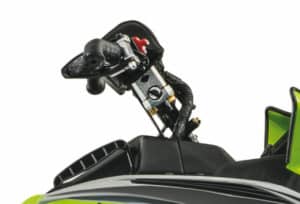 • Ny infästning av startsnöret gör det möjligt att plocka av kåpor utan att lossa snöret.
• Ny placering av expansionskärlet för enklare påfyllning.
• Reviderad kedjespännare för enklare installation och inspektion. (Prevents revers camming)
The Best Gets Even Better Following the most dominant season of snocross supremacy in a generation, the Arctic Cat ZR 6000R
SX race sled gets even better for 2019 with an all new engine package, suspension refinements and a host of durability
enhancements aimed to maintain Team Green's leadership in holeshots, cornering, handling and podium positions.
"The revolutionary 2018 ZR 6000R SX pioneered technology like a 136-in. track, C-TEC2 600 EFI engine and a suspension package that set the standard in big bump performance," said Brian Dick, Director of Snowmobile Engineering. "In the hands of Team Arctic racers, it won 59 percent of all National snocross finals 2018, 54 percent of all podium positions and 12 of the 14 class high point championship titles. The 2019 edition will be equally potent and even more durable." 
Arctic Cat brings its award-winning Dual-Stage Injection (DSI) technology to the 6000 Series C-TEC2 EFI engine for 2019, with a new exhaust system, reed valves and revised ECM programming for improved low-end power and response, plus an increase in horsepower. Last year's ZR racer debuted the ARS II front suspension featuring taller spindles, revised geometry and a handling advantage that was the envy of the sport. The 2019 ZR SX enhances the advantage with a new forged-aluminum spindle that's lighter and stronger while preserving the precision geometry.
At the back is a SLIDE-ACTION rear suspension and 15 x 136 x 1.75-in. SnoCross track that set a new standard for holeshots, acceleration, braking and straight-line stability. FOX FLOAT 3 EVOL RC ski shocks and FOX 2.0 ZERO rear suspension shocks feature revised calibrations for 2019 for improved action in all race conditions.
It's matched by the new ARS front suspension featuring increased caster, adjustable camber and increased ground clearance. The result is significantly improved handling that's more predictable and confidence-inspiring, as well as increased cornering bite.
Racers appreciate the ergonomic advantages of the ZR 6000R SX's touch points, including a the lightweight seat design, ultra-compact 3-gallon fuel tank, Next Gen side panel bodywork and console that allow easy movement around the sled, especially while cornering, as well as a low centerof-gravity.
A wide array of detail refinements enhance the durability of the 2019 racer, including an improved steering support, clutch guard, new front heat exchanger system, new bonded rail brace on the rear suspension, reinforced front panel, new upper a-arms and front chassis.
The 2019 Arctic Cat ZR 6000R SX can only be purchased through the Arctic Cat Race Department. To apply, go to www.arcticcat.com/teamarctic and click on Riders Only Information.
KEY FEATURES
• 15 x 136 x 1.75-in. SnoCross track provides optimal traction for holeshots and acceleration, greater straight-line stability and improved traction while braking.
• ARS II front suspension features optimized geometry for class-leading handling that's predictable and confidence-inspiring, with maximized cornering bite and ground clearance.
• Foot enclosures on the running boards enable racers to better hold their feet in the toebox.
• 3-gallon fuel tank is small to reduce weight and nearly eliminate the shifting of weight as fuel sloshes/moves around the tank. The smaller size and the placement of the filler neck away from the seat area optimizes the comfort and ergonomics of the sled, making it easy for racers to move around the sled.
• Next Gen side panel bodywork and console optimizes the ergonomics by allowing racers to move further forward while cornering.
• The upper hood deflects snow away from the rider, while the lightweight headlight/ windshield minimizes weight.
• Cutout-style rear tunnel section exposes the heat exchanger, allowing teams to pack snow on the coolers for improved hot-shot cooling performance.