POLARIS DURABILITY AND PERFORMANCE CARRIES CHRIS OLDS AND MIKE MORGAN TO SECOND-STRAIGHT IRON DOG CROSS-COUNTRY VICTORY IN ALASKA 
MINNEAPOLIS (Feb. 28, 2019) – Chris Olds and Mike Morgan relied on industry-leading Polaris® Indy XC durability and performance to win their second-straight Iron Dog cross-country snowmobile race across Alaska on Saturday, Feb. 23, in Fairbanks. The veteran racers dominated the race in which five Polaris teams finished in the top nine spots.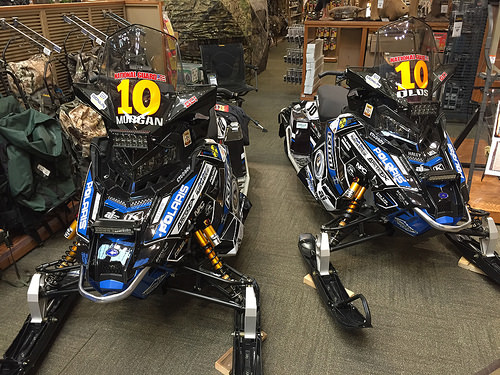 After starting the race near Anchorage on Feb. 18, Olds and Morgan covered 1,977-miles in 34 hours, 27 minutes, 31 seconds of running time. They were the first team to Nome, considered the race's midway point, earning a $10,000 prize. They rode less aggressively on the final day to ensure a safe finish and won by about 21 minutes.
The winners raced on a pair of 2019 Polaris 600 INDY® XC® sleds that performed flawlessly on the challenging Alaskan terrain. Teams get the opportunity at Nome to work on their machines, but the INDY sleds didn't need any service or repairs.
"The sleds held up great. We didn't have to work on them [at Nome]. That's one of the main reasons that we're here right now," Olds said at the finish line. "They're still good to go."
Morgan said, "We changed belts a couple of times, just preventative maintenance, we never blew a belt. These Polaris [sleds] are consistent, and that's kind of what won us the race, is consistency."
The victory was the fourth Iron Dog win for Olds, who also won on Polaris sleds in 2018, 2011, and 2010. "It feels amazing. Pretty exiting to be up here, especially at my age. A lot of these kids that are racing are half my age," Said the 47-year-old about the win.
Morgan, 33, called his second Iron Dog win, "Awesome. Back to back. It's got a nice ring to it."
Polaris Domination Continues 
Teams on Polaris snowmobiles have now won 18 of the 36 Iron Dog races – as many wins as all other brands combined. Only 13 Pro-class teams completed the 2019 race, and seven of those teams were on Polaris sleds. Here is the order of the other Polaris Pro-class teams that finished the 2019 Iron Dog. All racers have previously run the race unless otherwise noted.
• 4th Place: Brett Lapham and Zack Weisz.
• 6th Place: Kenneth Kleewein and Kruz Kleewein.
• 7th Place: Rookie Andrew Gumlet and Klinton VanWingerden.
• 9th Place: Cody Barber and Shane Barber.
• 11th Place: Rookie George Mountain and Kelly Sommer.
• 12th Place: The father-daughter team of Larry Levine and rookie Danielle Levine.
In the Trail class that finishes in Nome, the Polaris team of Kim Bergeron, Rebecca Charles, and Dennis Falldorf finished third.