Till 2020 har Polaris utvecklat sitt 850-program ytterligare men man har även tagit fram några nya modeller!
RMK EVO 144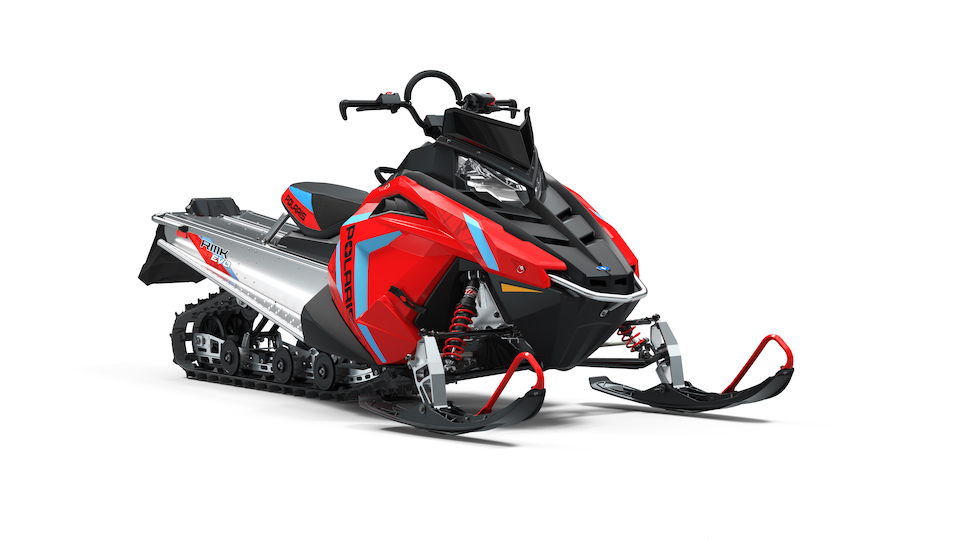 Byggd speciellt för nya förare. Med en 550 och 144″ matta ska den lära nya förare att bli självsäkra förare med rätt förutsättningar.
RMK 800-850 Khaos 155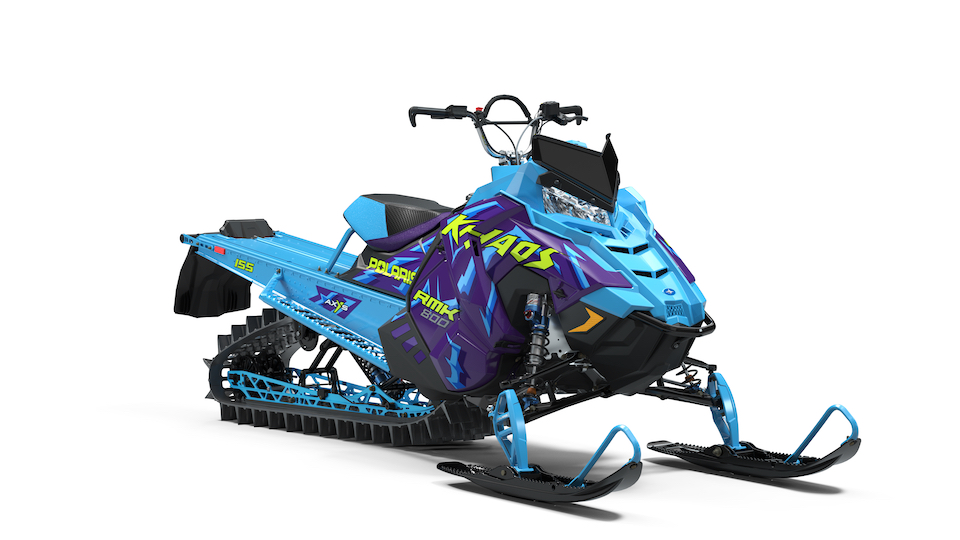 KHAOS bjuder på snygg design, ny geometri i boggin och Walker Evans Velocity-dämpare.
Polaris has introduced the new 2020 RMK KHAOS 155 for riders looking for the most playful and fun – and most flickable – all-mountain sled. The industry's first all-mountain sled is designed for all riding zones and it delivers easy, lively and dynamic riding. It is available with the powerful 800 Cleanfire® H.O. engine, or, through Polaris SnowCheck, with the 850 Patriot™ engine.
ALL-MOUNTAIN ARCHITECTURE
Both of the Liberty® engines available with this sled deliver a class-leading power-to-weight ratio, ultimate performance, and seamless AXYS® integration. The Patriot™ starter improvements on the 800 engine models ensure the best cold weather performance.
The RMK KHAOS 155 has new rear suspension geometry that provides balance for all-mountain fun. Designed with the perfect amount of transfer and traction for light handling and control and the best response in all riding zones.
The track options include the 2.6" Series 6 track and the 3.0" Series 7, both of which deliver outstanding traction and durability. The PowderTrac® XT Running Boards feature improvements for better deep snow performance, and there is increased usable space at the rear of the boards on 850 models.
RIDER BALANCED CONTROL
The RMK KHAOS 155 is the most playful with the least effort, giving a rider the ultimate off trail experience. The AXYS Chassis positions the rider for comfort, control, and confidence, and the React™ Front Suspension provides effortless and precise handling with less rider fatigue. The adjustable 36"-38" stance with sway bar design offers more-predictable handling, and there are forged A-arms and spindles for optimized strength and durability.
IMMEDIATE RESPONSE
The Walker Evans® Velocity Hi-Lo Compression Adjustable Shocks are the best of the best for a variety of conditions, as they have proven in dominating hillclimbs and snocross tracks.
The light and rigid design of the RMK® Rear Suspension improves weight transfer for more control and to deliver more power directly to snow. The RMK KHAOS 155 is available with a choice of Quick Drive and chaincase options.
850 Pro RMK 155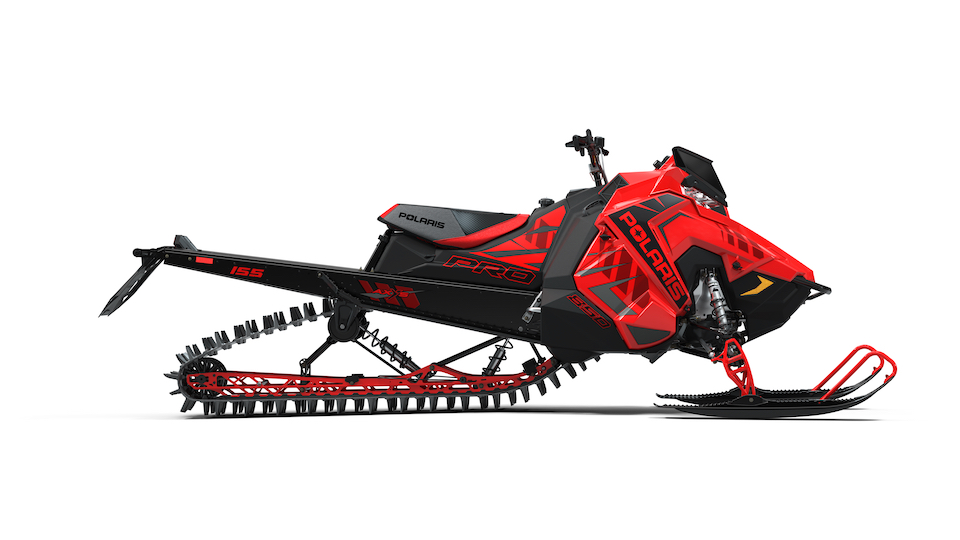 Även "vanliga" SC-modellen av Pro RMK bjuder på snygg färgsättning, dock är inget klart vad som kommer till oss. De får bland annat PowderTrack XT-fotbrädor med ny geometri längst bak för att ge bättre lössnöegenskaper.
850 INDY XC 137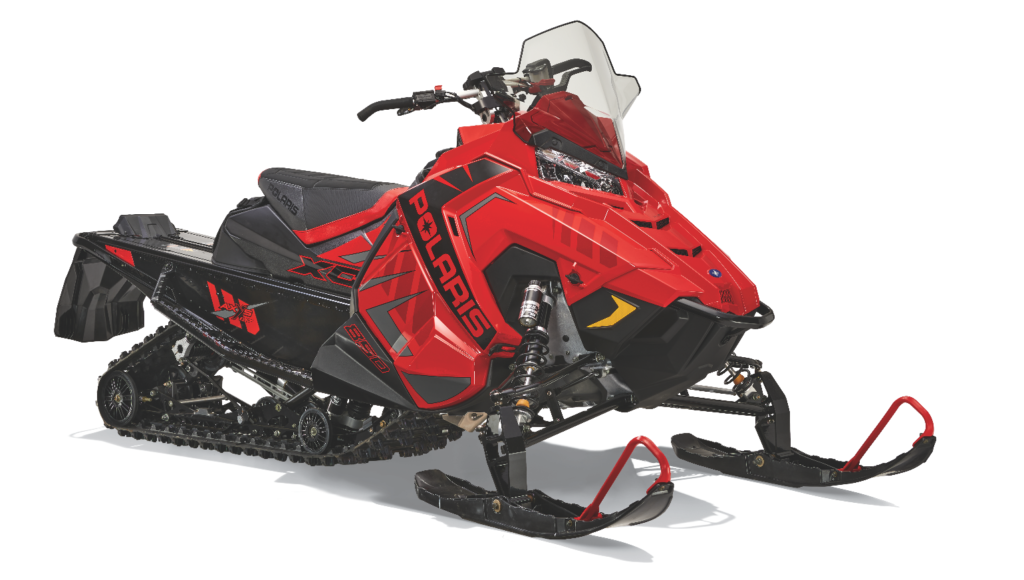 Det har kommit en längre version av Indy som finns i lite olika varianter och olika motorer, här som racer med 850 men finns även som Adventure. Indyn har alltså fått bakdelen från Switchback Assault och SKS 146 med PRO-CC-boggin. Finns olika mattor där den mest aktuella för oss har 38mm kammar.
At Polaris, our passion for snowmobiling drives us to develop and deliver the ultimate performance, ride and handling. Some 40 years ago, Polaris® innovation and manufacturing excellence led to our breakthrough independent front suspension – IFS – and it became the foundation of the most legendary model name in snowmobile history: Polaris INDY®.
INDY models have carried more riders down twisty trails, to new heights, and to race wins than any other sleds. INDY models have helped us make countless winter memories together, and further fueled our passion for the ride.
We celebrate the 40th anniversary of the Polaris INDY and look forward to riding exciting, ever-evolving INDY models into snowmobiling's future.
40th Anniversary Edition
One way we're celebrating 40 years of INDY heritage is with the limited-edition 2020 Polaris INDY® 40th Anniversary Edition. The 40th Anniversary graphics package will be available on all MY20 SnowCheck models.
850 INDY Adventure 137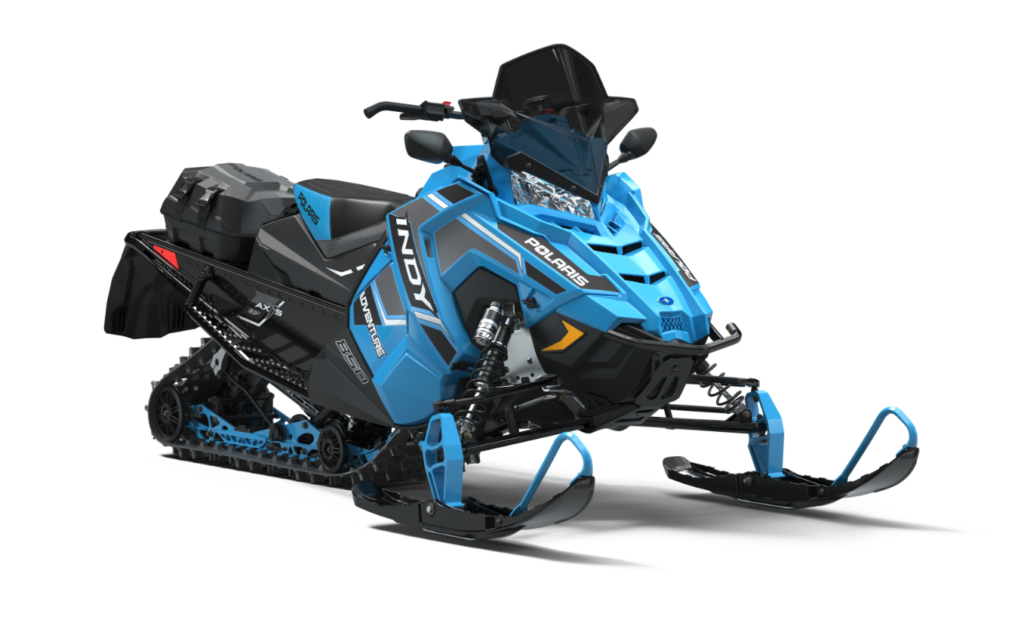 Bygger på samma koncept som XC-modellen men är utrustad med stor tunnelväska, backspeglar och kraftig frontbåge.